April 16th, 2010
Creativity is subtraction
I met Austin Kleon proper down in Austin, Texas about a month back. But the reality is we'd met online years earlier somehow as links crossed. We're part of the growing numbers of the unofficial Mutual Admiration Society—one of the marked benefits of our new networked lives.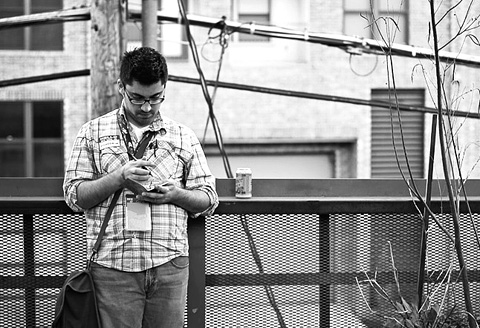 Within an hour of meeting Austin, he was already whipping out a sketchbook and capturing the scene at the local BBQ joint down there in Texas. He's always making something it seems.
Even on his bus ride to work he started marking up newspaper articles to create something new, something that straddles the line comfortably between poetry and art. In his words, "Never believe anyone who says they have no time."
Pretty bang on and inspirational, that guy.
Now we've teamed up with Austin to produce this Blackout Poem t-shirt that reads "Creativity is subtraction." It comes out right as his book Newspaper Blackout is hitting the stores and garnering excellent reviews.