January 5th, 2010
A Tribute to the Songs of Eddie Hinton
Eddie Hinton was an American songwriter and session musician best known for his work with soul music and R&B singers. He played lead guitar for Muscle Shoals Sound Rhythm Section from 1967 to 1971 with many famous musicians, but his own work isn't as well known.
Shake It Records in Cincinnati has worked hard to pay tribute and honor Eddie's work. They've lined up some great musicians to record Eddie's songs. First up? Drive By Truckers and Greg Dulli.
Tom designed a visual system that can be used for future releases. Chris topped it off with an illustration of the famous Muscle Shoals studio for the insert. First out of the gate in The Dangerous Highway Series:
Vol. 1 Greg Dulli – "Hard Luck Guy" / "Cover Me" (Shake 770)
Vol. 2 Drive-By Truckers – "Where's Eddie" / "Everybody Needs Love" (Shake 771)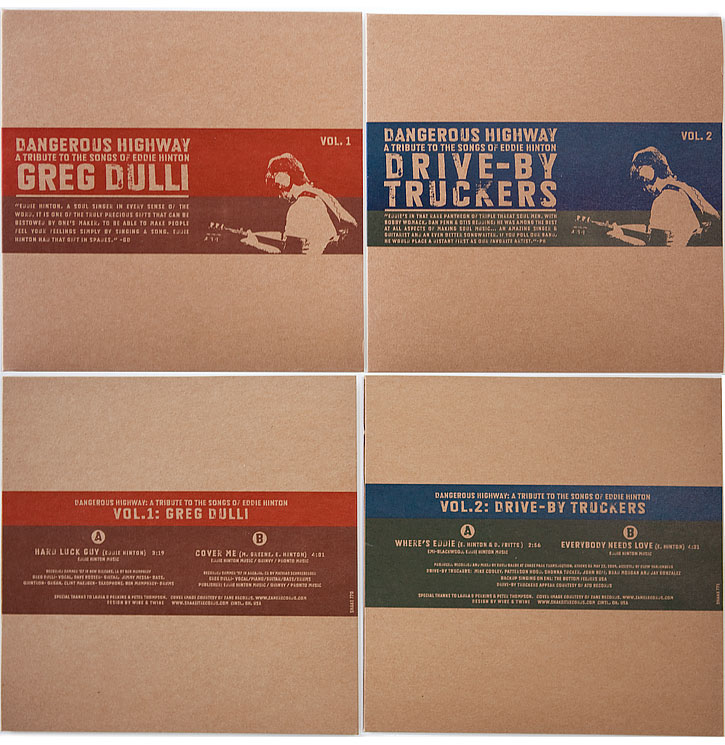 Much of the common thread of Eddie Stems from the Muscle Shoals Sound. (Those words might sound familiar… Lynyrd Skynyrd wrote in the Sweet Home Alabama: "Now Muscle Shoals has got the Swampers/And they've been known to pick a song or two.")
As a session guitarist he played on records by played on records recorded by Wilson Pickett, Aretha Franklin, Percy Sledge, The Staple Singers, Elvis Presley, The Box Tops, R.B. Greaves, Boz Scaggs and Otis Redding (to name a few).
These super limited edition 7″ vinyl records are available at Shake It Records.