December 30th, 2009
The story of the Facial Hairshirt
On December 5th, 2006 – we made our first sale (thanks Erik!). It was the Facial Hairshirt, or what we call the beard shirt most of the time. It's been a solid seller all these years but it's getting long in the tooth in its current incarnation. My personal goal is a rework in 2010 and make it into something else…
But this week we're taking the holiday break to tell the stories about some of the things we sell, so here goes:
I'm a beard man. Took me 30 years to grow one proper and boy does my weak jaw benefit from the extra volume. Mine doesn't do very much other than get all squashed when I sleep at night or get fluffy out of the shower – but I've always been one to appreciate the variations that can be made with a touch of the razor (and the proper genes).
So I set out to make a design that incorporated major types of facial hair. I did some research and edited it down to these 14 varieties that I felt were a good representation. I found the images I liked and made a collage in a photo editing program. Here is the original collage: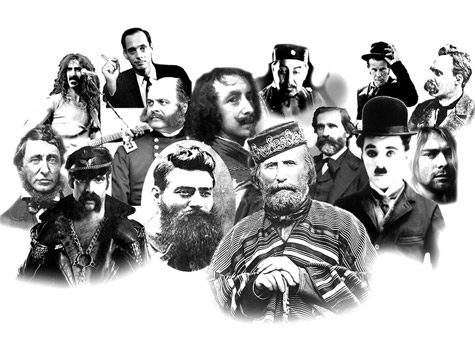 I used this as the basis for an ink line drawing and the rest is pretty much standard screen-printing. Being our first product for sale, we also made a behind-the-scenes movie to illustrate our process:
And last but not least, here are the types all listed out. This key is printed along the hem of the shirt.