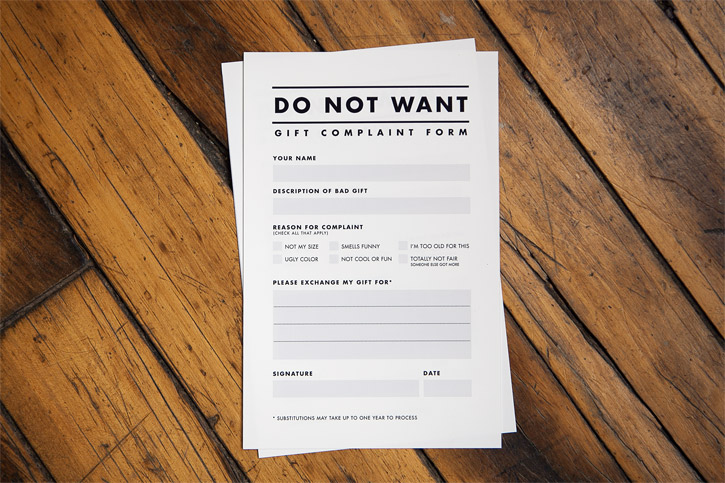 December 24th, 2010
Gift Complaint Form
I'm getting ready to go visit friends and I'm having sudden anxiety about the gifts I'm bringing. You know how kids can be at a certain age. Sometimes they aren't the most delicate with their emotions. All of a sudden, the spirit of the season is drowned out by screaming or complaint.
I've got an approach though, and I'm going to make this announcement before anyone opens gifts, "Okay everyone, this is how this is going to work. We're going to each open up gifts one at a time and you're going to love them. If you don't, I've brought along these Gift Complaint Forms for you to fill out if you are unhappy with what you've received."
I have no idea if it'll work, but it's worth a shot, and my nerves already feel better since I have a plan.
Even though kids are struggling with new emotions and probably quite anxious themselves, it's good to be reminded to enjoy the moment, even if you really, really dislike your present.
Download the Gift Complaint Forms for your kids or friends (PDF)
Download the Gift Complaint Forms for your kids or friends (PDF)