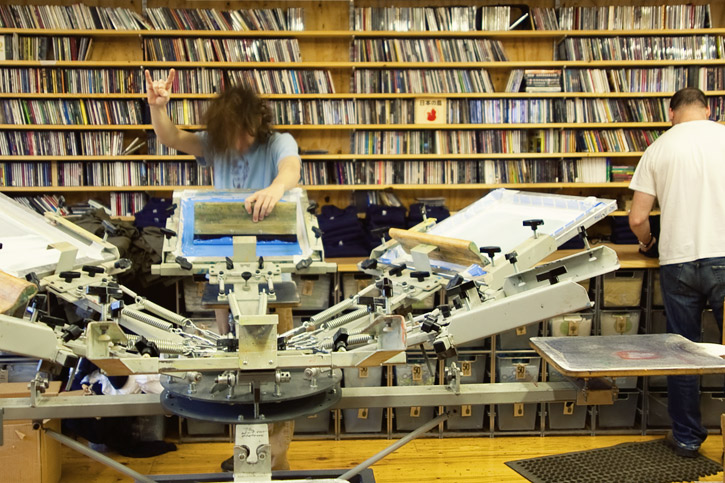 December 4th, 2009
Listening, December 2009
There's almost always music spinning at the shop. Most of us are music folks (Tom, Chris, and Joel). One of us is musically-challenged and often surrounded by children (Wendy). But we all love to have a soundtrack for our work day.
Here's what we've got in the queue right now:
TOM SPINS:
King Crimson – Lark's Tongue in Aspic
For some reason I'm on a journey to find a lot of new in a lot of old. Just got hold of the 1973 prog mammoth. Super heavy grooves with a little flute thrown in.
Risil – Non Meters Volume One
I buy a lot of stuff from Important Records. They are one of the few labels willing to take chances, and those chances almost always pay off. Risil is a super underground collective given room to freely collaborate. Songs are loose and not hooky, but there is definitely some magic going on. This is the first volume of three.
Def Leppard – High 'N Dry
Released before breakthrough Pyromania, this album rocks. Super hooky, ballad free musicians scraping together enough money to buy a corndog. Highlight is "Bringin' on the Heartbreak" going into "Switch 625" instrumental. If you need an early metal fix, this will not disappoint.
WENDY SPINS:
The Swell Season – Strict Joy
I give Chris full credit for recommending this album. I loved the movie, Once, so this was an excellent addition to the collection.
The Beatles – Yellow Submarine
The kids adore this movie and the accompanying soundtrack. I love putting laundry away and hearing a four-year-old singing "When I'm 64" at the top of his lungs. The stars must be aligned, since as the kids were listening to the soundtrack, I noticed swissmiss had just blogged about it.
TMBG – Here Comes Science
I've always been a fan of the music They Might Be Giants do for kids, but this is by far my favorite.  After a few listens, my pre-schooler was telling me all about the DNA in his cells and that most things are made up of four basic elements. In a few more listens, they will have exceeded all my science knowledge. An added bonus is the delightful animation in the DVD version of the album.
JOEL SPINS:
Mahavishnu Orchestra – Between Nothingness and Eternity
Full throttle live 70's rock. Music so fast and loud it is a must for when I'm in a hurry to get orders out the door.
St. Vincent – Actor
Annie Clark is brilliant. A ferocious set of tunes that makes the musician in me say 'I wish I rocked that hard.' Aggressive and colorful from beginning to end.
Andrew Bird – Noble Beast
A ingeniously complex and simply beautiful album that's almost perfect for any situation.

CHRIS SPINS:
Imogen Heap – Ellipse
Well, since Wendy stole my Swell Season pick and I used up the New Moon soundtrack earlier this week, I'm going down the list of what gets played the most. I start off this joint with the single "First Train Home," play that a couple times, then I let the rest of the album ride out and loop around.
Ray LaMontagne – Gossip in the Grain
I first saw this dude on SNL. This fact alone means I'm totally out of touch. But man, I loved his approach and delivery. He's got one of those sounds that seems like it's from another time, when soul was in fashion.
Ben Folds – Cologne
I love this song. I don't think it's a single or anything, but it's where I start off Ben's "Way to Normal" album. I love the deadpan humor and pining in the lyric. You've probably figured out by now that I'm a big emotional marshmallow.